Spiral sand washing and recycling machine is a multi-functional sand washing equipment that integrates sand washing, dewatering and recycling, which is designed and developed by our company for sand, stone powder, and other materials with high mud content in sand and gravel washing industry. The reasonable structure of dewatering screen combined with sand screw washer to form an overall structure, which can reach more than 300 tons per hour.
Spiral sand washing and recycling machines effectively solve the defects of large loss of fine sand, high water consumption and unclean cleaning caused by traditional sand washers. The finished sand grading will more reasonable by the washing and sorting of the equipment and meet quality requirements of customers.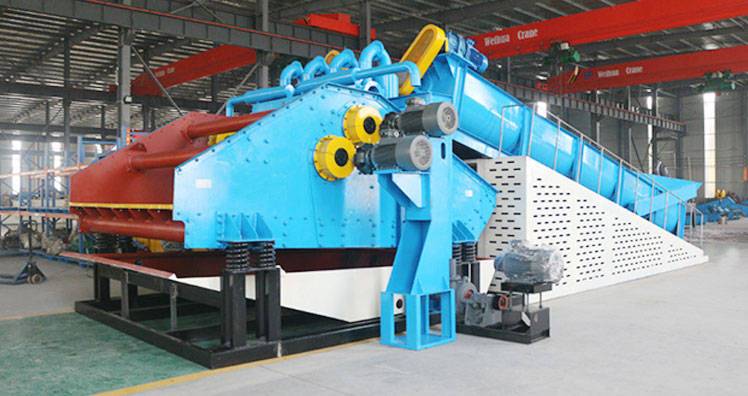 How spiral sand washing and recycling machine work?
Due to the difference in the size of solid particles and specific gravity, the sedimentation velocity in liquid is different, so the fine particles floating on water is overflow. Coarse particles sink to the bottom of water tank and are pushed forward by spiral blade.
At the same time, the sand and gravel are scrubbed by water flow, so impurities and mud mixed into sand is washed and separated. Then falls onto the front end of dewatering screen, and the exciting force generated by vibration device in a single direction causes the material to reciprocate linearly and discharge from the discharge port.
During this process, the moisture on material falls into screen box through screen mesh, and enters the back-end storage tank through overflow device, and then is pumped into the cyclone separator by slurry pump. After the centrifugal force is concentrated, the qualified materials enter dewatering screen for dehydrating. The drainage device is dehydrated, and the remaining wastewater enters the water repellent device for discharge.
Features
1. Adopt vibration exciter as the vibration source, large excitation force, the output can reach more than 300 tons per hour, and the continuous operation can be realized.
2. Specially for high mud content materials and large processing capacity.
3. The slurry pump and cyclone are connected together to form a return of water, saving water consumption and costs.
4. Integrated structure can save lots of capital construction costs.
5. Strong flexible and mobility can save a large amount of delivery costs.