Copper wire granulator machine
Doing copper wire granulator machine are mainly used to recycle all kinds of waste cable wires, the raw materials will be separated into tiny copper rice and PVC, the applicable range of the wires diameter from 0.5 mm to 30 mm, such as automobile electrical route, car bottom lines, motorcycle electric line, computer case line and communication cable, etc.
Exclusive Features:
--High purity rate 98% for recycling both copper and plastic/rubber
--Designed especially for Low-Grade Wires.
--Can process both Copper and Aluminum wires.
--Maximum throughput 150 lbs of insulated wire per hour.
--Specialized to process automotive, communication, and other scrap wires/ cables under 9/16" in diameter.
--Will process miscellaneous wires that are not economical for a copper wire stripper.
--A compact machine that does not take up an excessive amount of space.
--Environmental-friendly: no dust during operation.
--Easy to operate 1-Person.
Copper wire separator machine application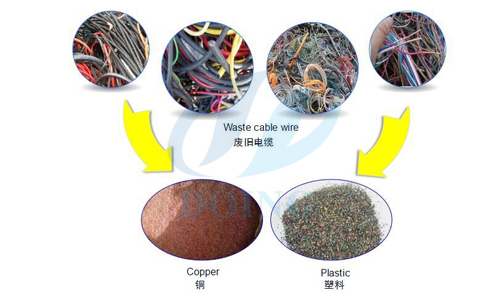 Copper wire granulator machine application
Copper wire granulator machine for recycling copper is a kind of machinery used for recycling waste & scrap copper wire and cables.auto electric wire, Motorcycle electric wire, Computer wire and other various miscellaneous material cables, communication cables, etc.